Sport is a profitable and worthy industry. Here you can find people who prefer different sports like baseball, football, cricket, basketball, soccer, rugby, and more. A sports app is ideal for such people as they want to stay connected with their preferred sports and play them online.
There are numerous sports apps available in the Play Store and App Store. While developing a sports app, you should create one that can provide a robust user experience. Building a sports app might seem tedious, but you can bring a whole idea if you conduct a comprehensive study on user requirements.
The Sports App Market Size and Statistics
Many people don't like TV screens anymore and stream live sports on their mobile devices. For this reason, many sports companies are building their apps. It helps people watch anytime and anywhere on their mobile screens.
Apart from sports enthusiasts, many other people use mobile apps. Sports coaches, event organizers, and parents find these apps the most satisfactory way of communication with the sportspersons and handling teams to enjoy sports on the go.
Sports apps have become an indispensable part of daily mobile users, enabling them to use mobiles to know everything about sports. Here's what to know about the sports app market size and statistics:
According to a report from CBS News, 56% of Americans are sports lovers. 50% of the global population loves any sport, including baseball, basketball, cricket, soccer, golf, tennis, etc.
Each day, users spend around 50 minutes on sports applications.
According to Coherent Market Insights, the global sports apps market will experience effective growth during 2019-2027. The market development is highly associated with the increase in the acceptance of healthy lifestyles, using smartphones, and easy access to sports apps.
The worldwide sports market is predicted to reach 17,436.4 Million USD by 2027.
According to Statista, the number of downloads in the sports sector is forecasted to reach 2,033.9 million in 2022. Paid app revenue in the sports sector is expected to reach 188 Million USD in 2022.
Latest Trends to Follow in Sports App Development
Since there are many sports apps, your app should have some exceptional features. In that case, you should follow the latest trends in the sports industry. To help you out, we have discussed some of the latest sports market trends below:
Social Media Integration
With this feature, users can share their experiences on social platforms. Social media integration improves user engagement by sharing their feelings and views about an app on Twitter, Instagram, Facebook, and others. In short, it helps in brand recognition.
Wearable App Integration
Wearable technology is one of the latest trends developing globally. Due to tech advancement, wearable apps are becoming a crucial part of our daily lives.
Utilization of AR and VR
AR (Augmented Reality) and VR (Virtual Reality) play a crucial role in the sports industry. These technologies help provide real-life experiences in the virtual world. Using these technologies, live game streaming in an app can give the same user experience as sitting in the gallery of a stadium.
Cross-Platform App Development
We have already seen the shift of mobile app development to cross-platform development. Some tech biggies like Alibaba, Pinterest, Facebook, etc., have also used this technology to boost their efficacy.
Hence, this technology is a revolutionary change in sports app development. Its innumerable benefits include rapid growth, high performance, affordability, and more.
Use of AI
AI (Artificial Intelligence) is an inseparable part of every latest innovation of the sports industry. After all, it creates a better user experience. With this technology, a sports app can provide a tailored user experience and improve the user base. Moreover, AI offers support services for solving user queries with pre-decided answers.
Gamification
Now gamification is also a part of sports app development. It helps include new features to web and mobile applications to enhance user engagement. Also, it helps retain users for a more extended period.
All of these latest trends may prove to be a game-changer for building recognition for your sports app or your organization.
Top Trending Sports App Ideas
I have compiled a list of some fantastic sports app ideas to help you attract many users causing a massive profit for your app development investment. Let's check them out!
Fantasy Sports Apps
These apps are widely popular among global followers. In this app, users create virtual teams of real players, and they compete depending on the players' statistical performance in actual games.
The workflow of these apps looks like this: Select a match, and after registration, login, and OTP verification, users can choose their preferred game. The idea of these apps enables sports lovers to compete virtually and build their teams.
It gives them the feeling like they are contributing to a real game of their choice. For this reason, these apps are top-rated worldwide.
We have developed a fantasy sports app for cricket for one of our clients. The app allows cricket managers to create their own teams from real-life players, compete in open tournaments with other managers around the world, and keep track of real-time score.
Sports Ticket Booking Apps
You can draw ideas and inspirations from a ticket booking app for sports events. This app can provide a complete 3D map of the stadium and display the available seats that users can reserve. The app will help users find a suitable seat for having the best viewing experience and book seats for their preferred games.
Moreover, you can add some extra features to the app, like purchasing refreshments online and having them delivered to your seat in the stadium. Your app must also have the notification feature to inform users beforehand regarding every forthcoming sporting event.
Sports Betting Apps
Although people prefer watching sports, their interest grows when they invest their money in those games. Sports betting is now legal and famous in several nations. You will find various forms of betting, such as traditional betting that takes place in a betting marketplace by a bookmaker.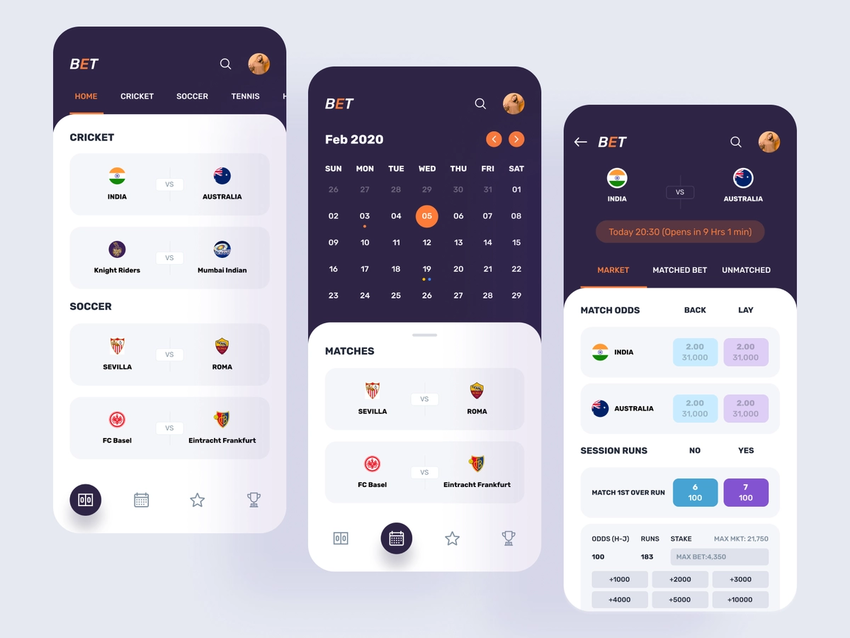 These days, sports betting applications even employ many business models, internal currencies, and bitcoin exchange.
Sports Fitness Apps
Sports fitness apps are highly trending as sports persons now know the benefits of staying fit. Hence, you can build an application that combines wearable sensors to keep track of the users' essentials.
Your sports fitness app should feature a nutritional calendar, map, tracking, and video guidelines for workouts, calorie counters, and statistics.
Sports News Apps
It is another excellent app idea to develop your business. You can create an application for sports enthusiasts.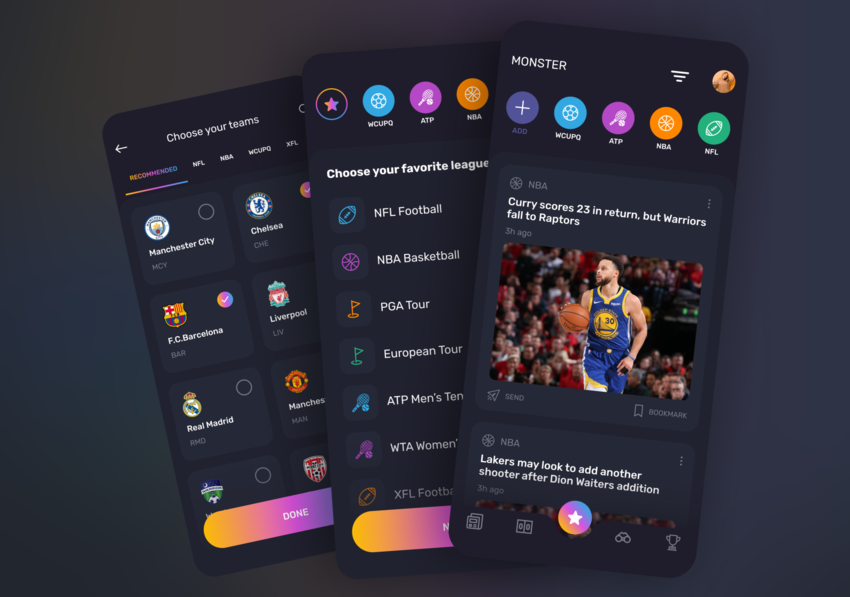 A sports news app can cover famous sports like tennis, football, cricket, etc., and offers updates on the scheduled matches' progress. It helps users stay up-to-date with the latest happenings in the sports world.
Live Streaming Apps
Although live streaming is an essential part of sports news apps, some apps are built entirely on live streaming. These apps enable users to watch everything about their favorite sports, leagues, and teams, whether real training, games, or video blogs. Live streaming applications have numerous followers who stay connected with their screens; thereby, they are financially capable.
Sometimes, these apps include a live chat feature to attract and engage more users. This feature enables viewers to communicate easily with one another and the athletes. Generally, these apps have features like high-quality live streaming, Chromecast assistance, and search and filters for channels.
Sports Equipment and Inventory Store Apps
Every sportsperson requires details regarding buying sports food, equipment, wearables, and other goods. These apps must feature the search and filter options, product pages with images and descriptions, product catalogs, payment gateway, shopping cart, reviews, and more.
Sports Celebrity Apps
These apps are a fantastic way of connecting with celebs. These days, superstars follow a trend to build their apps, communicate with their fans and followings, and share some parts of their daily lives with them.
Sports celebrity apps also showcase the forthcoming events where the stars will participate, their records, and everything else they want to share with their followers.
Sports Coaching Apps
Sports coaches can also utilize apps to keep records of the athletes' schedules, monitor their food habits, create new training modules, and more. The app must offer athletes' video clippings so the coaches can check them and find if they can enhance any weaknesses further.
Moreover, you can add a one-to-one training feature to the app to make workout and practice sessions more personalized and effective.
Sports Facility Booking Apps
These apps work excellently for the owners or administrators of a basketball court, gym, roller drome, tennis center, stadium, or swimming pool. You can add a description to every facility, whether a court, swimming pool, gym, or stadium, providing a comprehensive schedule and enabling users to see the timing of an accessible facility.
For example, a basketball court facility app enables the users to book team practice sessions and know about the instructors and coaches of the basketball game. Sports facility booking applications also feature the payment gateway integration to help users make payments flexibly.
Sports Quiz App
Sports enthusiasts widely use these applications as they provide engaging quiz games. People of any age can play these games. Sports quiz apps provide robust animations for quiz events, audio commentary for such events, a fantastic gaming experience, and so forth.
Sports lovers find these games truly exciting as they prefer enhancing their sports knowledge. Furthermore, they can win rewards and prizes after beating the game simultaneously.
Bottom Lines
These days, businesses are moving to web and app platforms. Hence, thinking of a mobile sports app for sports enthusiasts seems to be a billion-dollar idea. You can quickly develop a sports app if you are a business owner.
The latest sports market trends discussed above can offer your users a top-notch experience of sports and games. Moreover, any business can explore the ideas listed above and provide their users with a high-end experience by developing a sports application with robust features. Also, these ideas can help you enhance your current app.
So, if you plan for a sports app development to engage lots of sports enthusiasts, hire a professional and experienced mobile app development company. It is the best solution to grow your business.
Blog Source- https://www.mindinventory.com/blog/best-sports-app-ideas/