There is no doubt that the mobile game industry is developing so fast and becoming one of the most appealing and beneficial industries. In short, the industry has exceeded every benchmark, whether technically or commercially.
You can easily predict the future possibilities of mobile game development as there are over 3 billion online gamers worldwide. So, it's easy to expect that the future of mobile gaming will be innovative and bright enough.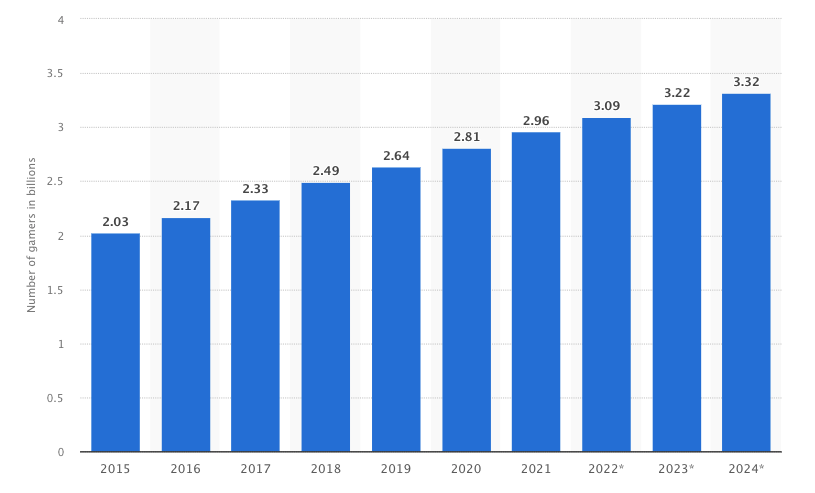 Knowing about the game development trends related to building an innovative and real-time strategy game will help you enhance your expertise and skill level to better handle the risks and difficulties in the gaming industry. Moreover, you can understand the requirements and behaviors of your potential game users.
Before we discuss the mobile game development trends of 2022, you must keep your eyes on some essential statistical data regarding this gaming industry. Let's dive in!
Important Statistics to Know
According to Statista, almost 40% of the global population, i.e., more than 3.24 billion people are gamers.
A report by GlobalData states that mobile gaming revenue is expected to reach $272 billion by 2030.
According to SensorTower, by 2025, 71% of Google Play's revenue is estimated to come from mobile games, and 42% of the App Store's revenue is projected to come from gaming apps.
As per Statista, in 2021, Asia held the first position in the global video game market with nearly 1.48 billion players, whereas Europe held the second place with more than 715 million gamers.
According to SensorTower, player investment will reach $138 billion by 2025 across the App Store and Google Play.
Major Mobile Game Development Trends to Follow in 2022
If mobile game development is something you want to invest in, you must follow the latest trends regarding the same. Here is an insight into the most possible mobile game development trends of 2022:
Mobile Cloud Gaming
Mobile cloud gaming or GaaS (Gaming as a Service) helps us learn the best ways of living. Furthermore, subscription models influence and motivate a developer more. After all, they can quickly connect some payment methods with gamers' strength.
Hence, if users want to build some strength, like involving a player or players with weapons like Fortnight, Candy Crush, PUBG, etc., so the players can smartly and quickly perform.
Undoubtedly, developers earn flawlessly when their users or clients turn on their PCs, laptops, mobile devices, etc., to explore remote servers to play cloud games without hardware assistance.
eSports are on the Rise
eSports is not a new trend. It has been a popular trend for years in the mobile gaming industry. You can consider it a competitive game for professional players and gaming enthusiasts.
Many people in the world follow and watch such games by directly watching them on TV or various live events or exploring web resources. Live streaming services help users watch their preferred games and play them in real-time.
It was estimated that the worldwide eSports market's value was more than $1 billion by the end of 2021, which was an almost 50% hike from 2020. Moreover, you can expect it to increase by over $2 billion in 2022. Hence, we can expect to see eSports as a popular and constant game development trend in the coming years as well.
Increased Gaming Socialization
The increased use of social media has made mobile games more interactive. During the pandemic, the isolation and constant quest for interactivity have made mobile games a social area of activity.
Facebook states that 38% of new gamers in the USA like to chat while playing games, and many are starting to like online modes or multiplayer more than single player games.
Game developers are reaping the benefits of adding features like guilds, social media connectivity, chat rooms, and so forth. The increase in social media use and gamers is the main reason behind the socialization of gaming. Marketers can also use the socialization of gaming by offering rewards through the latest social features.
Cross-Platform Mobile Gaming
Cross-platform gaming is another trend that will shape the gaming ecosystem in 2022. You can play cross-platform games using consoles and multiple systems. The main reasons why players could not play across platforms were a lack of funds and technology. However, in 2021, gamers have experienced cross-platform gaming in real life using game codes.
Developers want to build games and make them available on multiple platforms like desktops, laptops, mobile, and tablets. And these applications use cross-platform technology, so users can quickly discover them.
Wearable Technology
Wearables are electronic gadgets that feature sensors useful for assessing, identifying, and sharing data with users in real-time. Fitness rings, wristbands, and smartwatches are some of the standard wearable gadgets that use wearable technology.
Wearables are usually associated with health and wellness, and they are quickly developing in the gaming industry as well. You can use a data-tracking wearable device to track the gaming sessions attended by players. Hence, it helps boost the gamers' gaming experience by using and assessing this information.
Apart from using wearables for keeping records of everything from checking, analyzing, and supervising gamers' performance in real-time, you can use them to boost the streaming quality by using different microphones that enhance the whole gaming experience for game enthusiasts globally.
Gaming with Augmented Reality
You can consider AR or augmented reality gaming as a way of combining game visuals and audio content, enabling users to view and explore the game and its content and visuals in real-time. Unlike VR gaming, AR gaming utilizes the present environment to build a playing field.
You don't actually need specialized headsets in AR systems. Users can view, access, and play augmented reality games on devices like tablets, smartphones, and other portable gaming systems.
One of the most advanced examples of AR gaming apps that features GPS, a smartphone camera, a clock, and a gyroscope is Pokémon Go. It promotes a location-based AR environment.
Hyper-Casuals Will Take the Lead
According to Sensor Tower's Industry Trend Report, hyper-casual games ruled the video game landscape in 2020. The easy-to-play hyper-casual games allow gamers to relax and have fun without intensifying their intelligence.
BusinessWire predicts that the worldwide online gaming market will develop at a CAGR of 11.9% by 2026. Hence, this market prediction and assessment provoke the extreme development of the hyper-casual video game sector by 2026.
Some famous examples like Candy Crush, Monster Strike, and Coin Master can easily become tough competition for the games played on PCs or consoles. Hence, these easy-to-play games don't need any particular skills; so, you can expect them to become more popular in 2022.
The Ascension of VR (Virtual Reality) Gaming
VR (Virtual Reality) offers a highly mesmerizing experience to gamers. VR headsets help gamers interact with objects in an enclosed space. Although VR headsets are currently costly, tech progress will reduce their costs and make them pocket-friendly for casual and regular game lovers. We can also expect that graphics and VR games' overall quality will also enhance with time.
The future of virtual reality games looks amazing, when tech biggies like Intel, Google, Sony, Microsoft, IBM, Amazon, Samsung, Nokia Siemens, and Qualcomm have already started with the same. The global revenue from the sale of VR accessories, HMDs, and content showcases that VR will highly impact mobile games in the upcoming days.
Multiplayer Functionalities
Mobile games are more available than the use of gaming consoles. Many people can access them and will be able to access more in 2022. The portable smartphone devices and the various games they offer make mobile games an all-inclusive, multiplayer function.
In recent years, we experienced a massive craze of multiplayer games. Since eSports have become a worldwide wonder and games like PUBG Mobile have become more popular, multiplayer games will become a potent trend in 2022.
Mobile games are designed for several purposes, including mental refreshment, relaxation, and enhancing relationships and connections. Everybody wants to have fun while playing online games with their family and friends. For this reason, they seek multiplayer games.
Multiplayer games allow people to connect with other gamers online and join in-game events by team building. Moreover, these games have become more popular with the rise of social media. Since lots of users share one platform simultaneously, mobile games become the most important thing they want to explore.
The Metaverse
The Metaverse has become one of the latest trends; however, it's still not clear what it will look like for the mobile gaming industry. This year, the mobile gaming will be attached with the Metaverse, building more robust in-game experience. For example: Fortnite Concerts.
Different brands like Nikeland in Roblox will also build their gaming worlds. Startups are also planning to support the Metaverse infrastructure by offering their users the resources to create the Metaverse, like building realistic avatars. In short, the Metaverse will be more accessible in 2022 and the best space to watch.
Artificial Intelligence in Gaming
Undoubtedly, AI models offer better gaming experiences. AI in game development could determine whether your game will be a success or failure. We have already mentioned that popular technologies like AR and VR are becoming more popular. And the integrated strength of AR, VR, and AI will change the gaming industry forever.
We predict a greater impact of AI in gaming in 2022. AI helps developers build more exciting games. Presently, AI introduces NPCs with learning capacity. NPCs can also explore this AI-powered learning to transform their responses, which makes mobile video games trickier. According to the market research reports, we can expect a constant development of AI in the mobile gaming world.
NFTs and Blockchain based Games
Blockchain and NFTs are becoming essential in the mobile gaming industry. NFTs are quite like cryptocurrencies, such as Ether and Bitcoin. People use these non-fungible tokens for tokenizing real estate, music, artworks, etc. On the other hand, blockchain provides durability by virtue of its consensus algorithms.
Hence, people can use NFTs to tokenize game characters. Moreover, they can be used for tokenizing trading cards in card games. Also, many famous Metaverse games are NFT games. The market for NFTs and blockchain games is emerging quickly.
According to reports, the number of crypto wallets associated with gaming increased from 29,563 at the starting of 2021 to 754,000 in Q3-2021. These reports also state that blockchain games produced earnings of $2.3 billion in Q3-2021.
The Future of Mobile Game Development
In 2022, we expect the biggest game development trends to rise more quickly than in previous years. As already mentioned before, augmented reality or virtual reality will constantly emerge in the mobile gaming industry. Moreover, these technologies will greatly influence the future of mobile game development.
A survey conducted in 2021 states that the worldwide gaming industry is predicted to reach $218.7 billion by 2024, developing at a constant rate of 8.7% yearly. Hence, we can expect that the number of game enthusiasts will also increase in the forthcoming years.
Blog Source- https://www.mindinventory.com/blog/mobile-game-development-trends/