The communication process has undergone a drastic change over the years. It has travelled quite a long distance right from the era of sending handwritten letters to the present age of instant messaging.
Today business is encountering a fierce competition in the market and so the need for real-time communication has augmented. Just a decade ago, the SMS was the order of the day, but with the evolution of time, the popular chat based apps have substituted its place. And it be clear-cut, one must thank the emergence of the Smartphones which has played a dominant role in bringing these apps to the forefront.
The current scenario is that no business can excel without offering an optimal customer service. Therefore, when you think of this indispensable feature, the first thing that crosses your mind is providing a Chat option to the esteemed customers.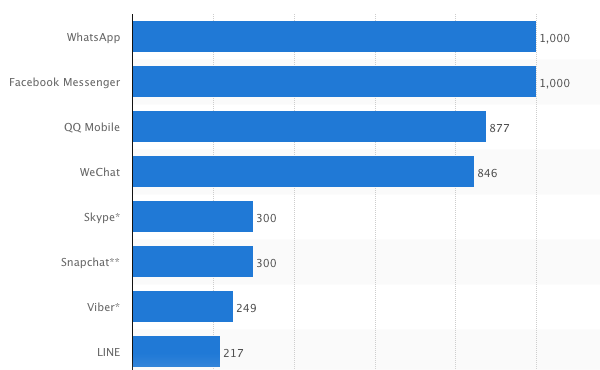 Another important aspect is when you opt for a global research; you will be surprised to note that instant messaging apps like Whatsapp has already crossed more than 1000 million users (1200 in January 2017) followed by others such as Facebook Messenger, Snapchat, Viber, Instagram, Skype, Google Hangout etc.
So, obviously you don't want to fall short in this tough race. According to the recent market survey, the audience will be demanding more for such apps in the near future.
Why Your Mobile App Should Have a Chat Feature?
So, you need to necessarily add the chat feature in your application due to these prevalent features:
Involves the Customer-Centric Approach
By adding the chat feature in your application, you are moving towards the customer-centric approach which means you are concerned regarding your clients.
You might have provided Toll free numbers or the email option, where the customer can ask his queries but with the passage of time, they are not preferred options. Most of the clients appreciate quick response which the emails and the call centers fail to provide.
Another problem that props up in this regard is that of the language. You might have to train your staff before they can sort out the queries of the customers. However, the biggest drawback here is that clients have to wait, which they abhor because it's time consuming.
A Predominant tool for Business Promotion
If you are planning for a business start-up or having a small business, then the chat feature can be a great boon to boost your future business prospects.
It not only helps in increasing your productivity, but also can hike visibility, marketing and brand promotion. You get an opportunity to directly showcase your products and services to the customers and also get instant feedback from them on the same.
The Importance of SMS cannot be denied
Well, you might say that SMS or Short Hand Messaging seems to be the master tool of previous years, so why is it important? To answer your question, first of all SMS is a chatting option.
It is one chatting alternative which allows you to reach millions of people around the world. Remember this that not all people are using Smartphones or have internet connectivity in their mobile. Hence, in such cases you can say that SMS is more than essential tool.
Moreover, it is an instant communication two-way process involving the sender and the receiver.
Whether it is updates regarding your business or products or the banking services all are informed smoothly by text messaging. Even the popular cab companies like Uber or Ola inform their customers regarding the arrival of cab through SMS only. It also allows the customer to keep a track record of their interaction with the company for any further purpose.
Chatting Tools offers Wide Range of Facilities
If you think that the different chatting tools are only for sending text messages, you might have to reconsider your decision. They are one of the most vital apps for social media networking nowadays and surely they have lot more to offer.
Group chats, free calls, video calls even to international numbers are some of the facilities provided. In order to ensure user is completely secured, it offers end to end encryption.
Valuable Customer Information to Store in Database
Just think, how benefited you would be if you are aware of your customer's preferences or dislikes before hand? It will be a blessing because you can frame or reframe your business strategies accordingly. You can also bring improvement in your services based on their feedback.
So, in short chat will help to solidify the bond with your clients. Now what information can you gather? Let us see. Precisely it can be the phone numbers or email ids, the country and city in which he resides, what brand does he prefer to use (same as your product), the internet user he uses and so on.
In this way you are preparing a database of the clients, which is obligatory for the business.
Having Enterprise Chat App as an Asset
Have you heard about Enterprise Chat App? Well, it can be a great asset for any business just because it offers different services to the customers that include banking, online shopping or sending cabs.
One of the plus points with this chat app is that it can be fully customized and secure your official communication.
According to current statistics, it has become one of the most preferred chat tools for corporate communication in the offices. And it is suitable for all types of business be it a manufacturing or retail or online.
Getting New Customers on the Board
Now don't restrict the benefits of chat to just pleasing the existing customers by solving answering their questions, but rather see this as viable opportunity to find new clients on the board.
Today people have become more interactive and they are searching for new unique products or want to avail information on some. So, here is your opportunity to score the goal.
Don't let it go off easily! This has become more plausible because the numbers of online shoppers are constantly on the roll.
Propelling Customers to Revisit your App or Website
You may look for new customers to enhance your business prospects, but at the same time it also very crucial to identify who your important clients are.
Therefore, your first job is to exhibit the products according to their taste and not necessarily waste time in convincing them to buy product. The chat notifies that the client has revisited the site or app and it's time the specialists show their skills in offering the apt choices for the customer.
Conclusion
Well, after much discussion on the topic, it can be evidently concluded that chat tools are essential from both the perspectives- i.e. from the client's side as well as from the business point of view.
From the client's perspective they can get instant help from the support staff if they have doubt or question regarding a product or they want some other information.
This will enable them to choose the best product. And if we look from business point of view it helps them to gather information about clients and get feedback to further improve their services.
Blog Source- https://www.mindinventory.com/blog/implementing-chat-feature-in-your-app-worthy-or-not/