Coffee shop apps are really taking off right now. Up and down the country, and elsewhere around the world, savvy cafe owners are exploring the possible potential of offering their customers an app with which to enhance their coffee experiences and reaping the rewards which come with them. Simple, elegant, logical, and effective, they've become a key trend in the cafe and services industry, and it has been more than exciting to see them develop and turn into something of a groundbreaking movement in this business type.
There's little wonder why coffee shops are leaping on the custom app bandwagon. One of the key aims of any cafe is to increase customer loyalty (and boost sales and revenue as a result), and apps are one of the most effective ways of developing a sense of belonging and community among their clientele. With a custom app, coffee shops are able to reward their customers, speed up proceedings (which is a surefire way of keeping clients happy), and keep in touch with their clientele to develop the communal feel of the business.
There's no limit to the possibilities open to cafe owners when it comes to custom apps. The number of features available is countless, and the fact that each app can be customized to feature the company branding, colors, and themes allows the brand to go further and increase its marketing reach also. While there are a plethora of features out there to choose from, there are five key features that no coffee shop app should be without. Here at Messapps, we've worked on a number of apps for cafes, and have successfully identified the bare essentials which coffee shop owners should be aiming for in their custom apps. Let's take a look through those key criteria one by one.
Pre-Ordering Coffee
Nobody likes waiting in line when it comes to getting their morning caffeine fix. In fact, the number one factor which puts clients off when visiting a cafe is seeing a long queue… after all, there's bound to be another cafe around the corner, which may well be much quieter.
By including a pre-ordering feature in your custom app, you essentially allow your clients to jump the queue and have their coffee steaming hot, ready, and waiting for their arrival. This is a key factor for boosting that all-important customer loyalty, as a pre-ordering feature makes the customer feel like a VIP or exclusive client, who need not wait in line with those who haven't taken the time to download the app for themselves.
It's also something which works well for the coffee shop staff, too. Pre-orders can be dealt with swiftly and efficiently by a dedicated team member, which offers the possibility of speeding up processes, making more money, and keeping more customers happy.
App Payments in Store
As we move further and further towards a cashless society, apps that allow customers to make online payments are becoming increasingly popular. It isn't difficult to see why: app payments don't require you to have the right cash on you, nor do they require you to search through your wallet searching for the right debit or credit card. They're fast, efficient, and simple, and streamline actions as basic and essential as getting your morning cappuccino before heading to the office.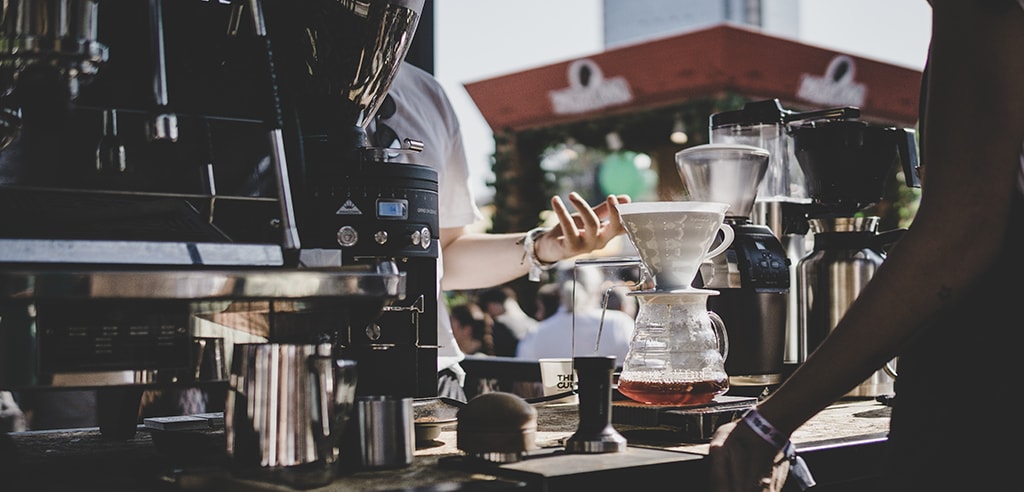 Again, app payments in the store are also another thing that can boost that sense of customer loyalty and community. Offering this option to your customers shows that you – as a business owner – care about making things easier for your clientele and that you're actively exploring ways to streamline your services. It also shows that your cafe is taking steps to stay on top of the latest technological developments and that it's keen to gain the edge over the competitions… and that's something that today's coffee-drinking generation simply can't get enough of.
Find Location
This one is mainly relevant for chain companies and coffee shops which have outlets in various locations across the country, or internationally. Your loyal customers love your coffee, go into raptures of delight over your cakes and pastries, and have decided that your company best reflects their own values and preferences. As such, when they're traveling for business or pleasure, or are simply spending time in another city, the chances are they'd prefer to get themselves a coffee from your coffee shop than from any other.
How useful it is, then, for your app to have a location feature! By opening their custom app on their smartphone, they'll be able to see whether or not your coffee chain has a cafe in their immediate vicinity, and there's little doubt they'd even go a bit out of their way to get their favorite drink. Even for coffee shops with just a small number of outlets, a location finder can really help – your loyal followers will be keen to tell their friends, family, and colleagues about your company, and the map function will be useful in spreading the word about what makes your coffee shop so unique.
Rewards Program
If you're looking to really boost customer loyalty and revenue, then a rewards program is an essential feature you simply cannot do without. Each time your customers buy a coffee, they can receive a virtual 'stamp' on a digital rewards card. Collect a certain number of stamps (most coffee shops will ask for seven or nine), and the next coffee comes completely free of charge!
Rewards programs on custom coffee shop apps are a fantastic idea, as they remove the risk of losing or forgetting to bring a physical card to the cafe, and ensure that for every drink bought, a stamp is provided. This scheme massively boosts loyalty, as it encourages the customer to only drink at your cafe and keep track of how many points or stamps they've collected.
News Feed
One of the keys to building customer loyalty, and one of the ways of taking your app further than ever, is by building an online community with your custom app. The easiest way of doing this is by setting up a news feed on your app and keeping your customers informed of what's going on at your coffee shop.
Have a new type of coffee available at your cafe? Post it on your news feed, and let your customers know all about it. Is there a local event happening nearby? Encourage your customers to check it out, and remind them that your cafe is where they should go for refreshments. It's also a great way to boost your promotional efforts with offers and exclusive deals for app customers, and it really develops that sense of community that today's smartphone app users love.